Winning in Service, a LIVE 2 day Mega event taught exclusively by Jeff Cowan.
Start Winning in Service
Attendees to Jeff Cowan's Pro Talk workshops average a 5-10 increase in customer paid repair orders, substantially increase their customer retention, and find themselves in the top 7% in the country with their customer survey scores by simply using Jeff's proven methods.
2-Day Workshop
September 13th & 14th, 2023
In the Winning in Service Workshop attendees will learn how:
Build relationships with your clients
Get an Effective Labor Rate above 90%
Earn near-perfect to-perfect survey scores
Get Customer Retention above 80%
Deliver a Customer Paid Repair Order
Average of 2.5 and or 3.5 for Highline vehicles
Eliminate disgruntled customers forever
Continental breakfast and lunch Included
Come and Enjoy!
Continental breakfast is available daily between 7:30 am – 8:00 am
Lunch is available daily between Noon – 1:00 pm.
Once signed up, You will be contacted within 48 hours by the Pro Talk office with information on how to get prepared for this event.
Real Numbers.
Wake Up and Dream.
The Essence of Service Advising.
Know Your Customer.
Word Track Myths and Facts.
The 6 Areas of Closing.
The Truth About Technology.
Customer Retention.
Sounding Like a Professional Salesperson.
The Most Important Basic Selling Fundamentals.
The Professional Approach and Greeting.
Asking Diagnostic Questions.
Solving Primary Concerns.
Building Rapport.
The 4-Point Walk Around.
The Invitation Technique.
Closing Your Customers on Allowing You to Make the Presentation.
Selling Service Advisor.
The 6-Step Presentation.
Closing your Customer on the needed time.
Service and Repair versus Service and Retail.
The Art of Selling from Displays.
Closes That Work on Any Service Drive.
Presenting the MPI.
Scheduling the Vehicle Delivery.
The Next Visit.
A real Training Program Requires.
Sales Manage Your Success.
Follow Up with your Customers.
The Value of the Process.
How to Create a Consistent Workflow.
Quick Tips to Earning over $100,000 Annually.
What Training Does for You.
Goal Setting.
What's in it for Me?
What is at Stake?
Closing Comments.
Breaks are daily between 10:00 am – 10:15 am and 2:00 pm – 2:15 pm
This is a loose agenda (time permitted) based on the interaction and
skill level of the group.
Frequently Asked Questions
Check out our Pro Talk Frequently Asked Questions and Knowledge Base.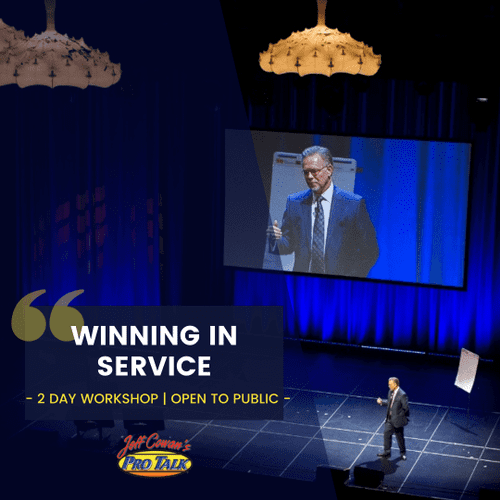 September 13 @ 8:00 — September 14 @ 4:00
Las Vegas
Jeff Cowan